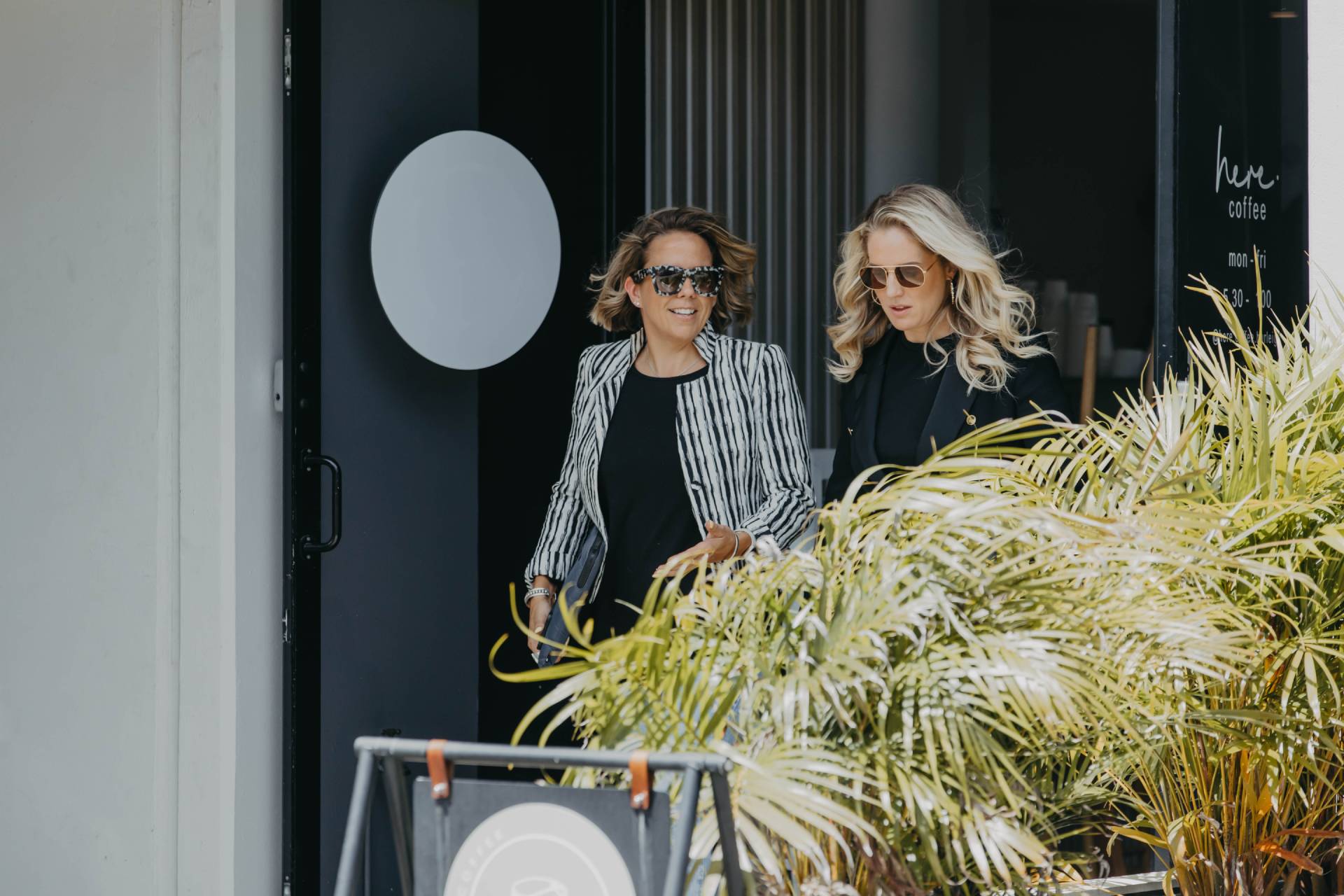 The story of two business women.
It all began when we happened to move in next door to each other by chance. An uncanny amount of coincidences peppered our lives – for a start, we discovered our dogs were sisters! Our (now ex) husbands had both worked in the exact same plumbing job, one after the other, at the same company, even driving the same van. We both worked as marketing managers, in offices just around the corner from each other. We both also ran our own marketing and web design companies on the side. There were so many more similarities between our lives, even though we are from opposite sides of the world.
With so many obvious points of comparison, it would have been easy for us to be competitors; attempting to out-do each other at every turn. But instead we quickly became the very best of friends. BFFs. Work wives. Sisters.
In 2016 we merged our two companies and created H&E Group, a full throttle brand & web design agency. We had the office at Holly's house, had five staff, four dachshunds, an army of global freelancers, and the two of us, working flat out managing projects of all shapes and sizes. It was amazing. 
"H&E Group". What an interesting name. As far as we were concerned it was perfect. Holly's previous business had been Harhar Group, and Elke's was Our Empire. We merged them, and as "Harhar& Empire" seemed a bit of a mouthful we went with H&E Group. It wasn't until a few clients asked why, as branding people, we didn't think of something more catchy than 'Holly & Elke Group' that it dawned on us that we had made a small but crucial error! However – we were already flying, and the name stuck. Harhar & Empire, or Holly & Elke, we didn't care. Our recipe was working and we were on a roll.
Three months later, Elke fell pregnant with the first H&E Group child. Over the next four years, between us we had another three children (another son for Elke, two daughters for Holly) and hand-balled the business back and forth when one of us needed to take a week off to have a baby! We never left each other's side, and just added raising our collective tribe into the mix of our busy lives.
In 2020 the global pandemic hit. It didn't seem to touch us too badly, as we opened our first 'official' office just a month later. We saw so many of our competitors lose everything, and so many of our clients shut up shop for good. We weathered the storms, and like so many small businesses just held our breath as the world got more and more closed, innovating and pivoting as we needed to. We realised then that a solid brand strategy, and knowing your target audience in the most intimate way, was crucial to being able to stay alive.
In 2021 we upgraded to a larger office in a more commercial area, with the intention of filling it up with staff. We put up huge red signage everywhere, and absolutely loved our new base in the heart of Burleigh. We welcomed so many new clients into the fold, but felt somehow like we could do our work with our eyes shut. We loved it, but we almost felt like our vast knowledge and experience was being wasted. Unused.
So we went deeper. We realised the biggest kick we got from our clients (and for them!) was our endless curiosity in their clients' needs and how their business could meet them. Helping them really find out who their product or service is most relevant to; creating their marketing to draw in their ideal client so they absolutely couldn't live without it! We maximised on this more and more, giving our clients taglines, brands and websites with laser accuracy for the ultimate client experience.
Since H&E Group began we have worked with hundreds of Australian and international businesses to streamline their processes such as client sign on, event ticket purchases, doctor's referrals, product purchase, online course delivery, tender applications, database building, client targeting, and so much more.
We have built top-level brands and websites across so many different industries; architects, developers, builders, multi-site gyms, creatives, doctors, law chambers, retail, public speakers, agencies, shopping centres and market research companies… and we've built e-commerce websites from 8 to 8,000 products.
Our commitment to making each partnership feel a solid extension of our own business means we have a highly valued network of clients, with whom we have worked closely for months – and in some cases – years at a time.
Here we are today managing a business we love, side by side with our never ending thirst for growing our clients empires!